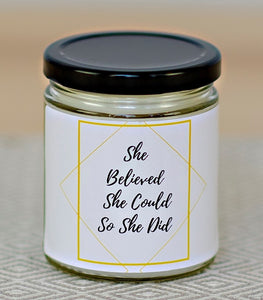 Build your own candle by picking your favorite custom candle label with your favorite scent(s).

100% Soy Wax, Cotton Wicks, High Grade Fragrance Oils
Burn Time- 40+ hours minimum | 7.5 ounces or approx. 213 grams
Clean Burn, Phthalate/ Paraben Free, Vegan, Cruelty Free, Dye Free

All our candles are hand-poured with love to help improve wellness.

Welcome to the family!